People are visual creatures.
And if your listing isn't visually appealing (or stunning), you are going to be missing out.
To succeed in a crowded market place, especially a disjointed marketplace where 1000's of units compete against each other to gain a booking, you must stand out visually.
The best way to do this is by having the best pictures possible of your unit.
Why taking good pictures is so important
Taking good pictures is really important, and can make an amazing difference in your bookings and the price you can charge per night. The best part: it really isn't that hard to do!
Even if you are just starting, having great photos you can greet guests right away.
And for those seasoned pros out there…refreshing your photos can make a big difference in terms of your price per night.
If you follow my tips, you can even get better photos than the free airbnb pros can produce. And if you don't list on AirBnB but on the other market places, then you are going to need my advice more than ever because no free professional photos for you!
Now you can do this in one of two ways. Yourself, or with a hired pro (at a very reasonable price).
7 Tips to take high quality photos for your listing
1. Don't do it yourself.
Easy right? With the advent of high quality DSLR cameras, everybody thinks they are a pro photographer. But most people aren't. More on this in further down.
If you really insist on doing it yourself (perhaps as a stop gap until you can afford a pro) here is what to do.
2. Take photos with the correct orientation
Always take photos in Landscape more, not portrait mode. It just looks better, and bigger. Portraits look smaller, and worst of all, most websites like AirBnB are not setup for portrait size pictures. They really look best with landscape photos.
3. Make sure each picture has only 1 focus
Each photo should convey something important and have a main focus, one focus is ideal. Each photo should depict something in particular, like a picture that has just the kicthen in one shot is better than a picture that has both a living room and kitchen in the same shot
4. Take triplicates of everything
Make sure to take a lot of pictures, multiple of each angle, in case some come out blurry. Better to have too many of each angle then not enough. The first time I did this I was running low on time and only took one picture of the pool at just the right amount of light. Guess what, it turned out blurry and I had to do it over the next day. Take a bunch! Digital "film" is free!
5. Get a Tripod
Buy / borrow / rent a tripod and use it. all shots should be taken with a tripod, as this will allow more light into the photo without it getting blurry. A tripod is really key to getting stable, low light photos for your unit.
6. Use Golden Hour to your advantage
Get in as much light as possible. Don't take photos at night or near sunset. The best light is sunlight, but you don't want strong shadows or areas that are lit up in one spot and not at another. You have to find the best time for your apartment when it is the most sunny. Open all your curtains, turn on all the lights, and make sure it is very sunny but without harsh shadows. The best light is usually at Golden Hour, the hour right after sunrise and right before sunset when there is still enough light but it is not too harsh with a lot of shadows.
7. Clean like a neat freak before the shoot
This seems obvious, but isn't always. Clean up and stage the room perfectly!  It has to be incredibly clean, cleaner than ever, and it must show well. For the kitchen, put out place settings to make it look more homey. Have place mats, wine glasses, napkins, everything. Have flowers or a fruit basket out to add some ambiance. Have a few candles out, or some nice vases out to give each photo interest. Adding these colorful accents makes a big difference.
OK well those are all my photography tips for doing it yourself.
But what about tip#1. hiring a pro photographer for your AirBnB listing?
Part 2: How to Hire a Pro Photographer Cheap for your AirBnB listing
Honestly this could be another article, but since this is the definitive guide, lets get to it!
This is my #1 recommendation because of how cheap and easy it is to do it! I recommend placing an ad on Craigslist->Gigs looking for a pro photographer with a wide angle lens. I spent $250 and got 20 high quality photos AND an HD video. Talk about value.
Pros bring a lot of value in both experience and gear
The photographers (yes two of them) showed up my place with $15,000 in pro gear and lighting. One did video shorts of each room to splice together later, while the other one took photos. It was an amazing tag team and I couldn't be happier with the end product.
You can get a similar service yourself, just by shopping around and putting up a simple free ad on craigslist. Remember, craigslist can be dangerous and you are inviting strangers into your house, so please screen people carefully and its a good idea to have somebody else there with you when they show up, just in case. But I have had nothing but good experiences when you screen correctly. So this is how to do it.
What to look for when hiring a "pro" photographer
I put up an ad on Saturday, and was simple flooded with responses by Monday. There are a lot of photographers out there looking for gigs. I put "pro" in quotes because in many cases they may not actually be a full time professional photographer, and that is OK. A dedicated hobbyist with $15,000 in camera gear and a great portfolio is totally acceptable!
Here are the key things you MUST ask for:
-Experience shooting inside
-Pro level DSLR camera
-External pro level Flash
-Pro quality wide angle lens(es). Ask them what kind they have. For wide angle, the lower the number the better. So a 10mm wide angle lens would give a wider field of view than a 15mm for instance. These lenses are very expensive, so this is a big benefit of hiring a pro. Depending on how big or small your space is, this can be really key. A smaller space can look 1000% better when shot correctly with a pro quality wide angle lens.
Next up, ask to see their portfolio and review other inside or "architectural" shots they have done. All pros have a portfolio ready to show you.
Now its time for the interview and negotiation. Make sure you talk to them on the phone. This is the #1 thing some people skip, and it is a bad idea. Always insist on a phone call or drop them from consideration.
I paid $250 that included 20 touched up (edited) photos and one 2 minute video. You can easily find a similar deal on craigslist.
How does this compare to the Free AirBnB Photos offered in many cities?
Why is this better or worse than the free AirBnB photos you ask?
I say its better because you OWN these photos and can use them in anyway you like.
When Airbnb takes them, they can only be used on your AirBnB site. So you can put these on your website, other listing sites like VRBO and Homeaway, or any other place you like! Its totally worth it.
Sample Craigslist Gig Offer Posting
Modify as you wish, and include video if you like, some photographers do both nowadays since its the same gear.
Subject: Looking for  a pro photographer to take amazing pictures (and video?) of my vacation rental apartment.
Pay: $200-$300 (more if you want video too)
Description: Hi I'm looking for a pro photographer to come out to my place next weekend and take pictures (video). I need really professional and beautiful pictures, so I'm looking for somebody with top quality gear and experience shooting these kind of things. To apply, please send the following:
-A link to your portfolio showing recent work
-A complete description of your gear
-What kind of wide angle lenses do you have?
-What kind of flash / lighting gear do you have?
-Can you do video also?
-What is your availability to complete this?
Please note that I would like 20 full resolution retouched images (video) on completion of the project delivered by a DVD or online if possible. Please include that in your bid.
In most metro areas, you will get a ton of responses! I got college kids (they were seniors) to come out and shoot mine and they did an incredible job. Plus they took 1080p HD video also that I made into a promotional video. Overall, I paid $250 for everything and it was worth every penny.
My results using a pro photographer for my listing
You can check out my photos on my personal AirBnB listing here:
https://www.airbnb.com/rooms/1832502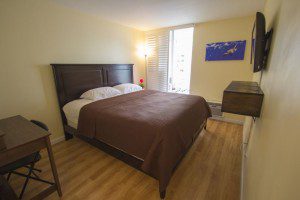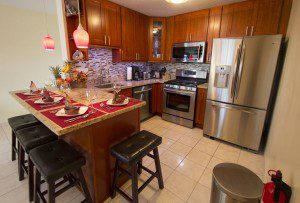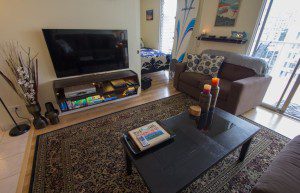 If you have any tips on photography yourself, why don't you add them below in a comment!